CK loves Events wants to share some fun holiday crafts for the holidays. The first one is the Jewish star. This craft is somewhat easy to make; you can use blue colored popsicle sticks; I found my blue popsicle sticks at the craft store Michaels. You can do a Google search for where to buy blue popsicle sticks. You will need to use six sticks in total. The first thing I would do is hot glue a triangle together. Then do that with the other three. To fasten them together, place each triangle on top of each other and glue to make it look like a star. I would use a hot glue gun, so the sticks have a long-lasting hold. Then you can use any sparkle you want to decorate.

The next fun holiday craft idea is the cinnamon stick reindeer. I was able to find thick cinnamon sticks at Michaels's craft store. You can also search on google for where to buy these items. Using a hot glue gun is a necessity for this project. The items used were googly eyes and brown pipe cleaners. You can pretty much find all these items in any craft store.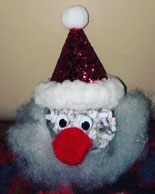 The last craft I want to share is the Santa Claus. He was not very complicated to make. You will need fluff, white cut crinkle paper, pom poms, googly eyes, glass bulb, and a little red Santa hat. This project will need to be hot glued. You start by stuffing the glass bulb with the small cut crinkle paper, then you hot glue everything and stick the hat on top. Now you have a fun ornament for a grandparent, teacher, or parent. I hope you try out some of these beautiful holiday craft ideas. Remember CK Loves Events for all your holiday parties.