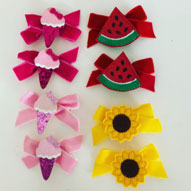 Thanks for coming back to CK Loves Events blog. The topic for this week is a fun barrette crafting party favor idea for goodies bags. These barrettes are fun and easy to make. The items you will need to purchase are the felt cutouts, velvet barrettes, glitter fabric, and a hot glue gun. I did try using fabric glue, and the pieces did not hold very well. My suggestion is if you are going to use a hot glue gun, glue the pieces away from small children. They can get extremely hot, and a little one can receive a burn. Trust me, I have had so many with a hot glue gun. Please be very careful and read the instructions.
These barrettes are pretty manageable and fun to make. The process is effortless. Drying time is next to nothing when you are using a hot glue gun. They will be ready to place in each goodie bag right away.

As you can see from my examples, you can be as creative as you want. I made popsicles barrettes for the Fourth of July, ice cream cones, sunflowers, and watermelons. All fun, summer-themed ideas. These are perfect for any little girl's birthday party. This sweet little goodie take-home is excellent for each child who attends your child's birthday party.
This party favor is an excellent idea and pretty easy to create. I will add a supply list at

the bottom. These can be mixed and matched with any outfit or occasion. Every little girl loves a little sparkle fun with her outfit. I always did when I was a little girl. Every time I got dressed up, I put on a bit of a splash of fun with my outfit, and that is what these little barrettes will do.
I can make any kind of barrettes for a birthday party or any special occasion. Remember CK Loves Events for all your party planning needs. Our website is cklovesevents.com.
Supplies needed:
Felt barrettes (found on www.aliexpress.com)
Ice cream cutouts (found on Esty)
Watermelon cutouts (found on Esty)
Sunflower cutouts (found on Esty)
Glue Gun (found on Michaels)