Thanks for hanging with CK Loves events. We are going to share some fun October crafts with you this time.

 The first one I want to share is the adorable fun Wizard of Oz character lights. I was able to find the idea on Pinterest. The original idea was for either a witch or Frankenstein, and I chose to take a different approach. The Wizard of Oz character lights were fun to create. I bought most of my supplies from Party City and United Art and Education. This paper cup craft was made from colored paper cups, tea lights, googly eyes, and fun craft embellishments. Other supplies needed were found and purchased from Esty.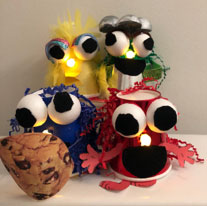 The next idea I made was the Sesame Street monsters. Elmo and Cookie Monsters are my favorite. I used a glue gun and Elmers glue. If you use a hot glue gun, use the hot glue gun far away from small children. It gets extremely hot and can cause burns. Please be careful when using it. I will add the supplies needed at the end of my blog.
Please remember CK Loves Events for all your party planning ideas. Please find us at cklovesevents.com.
Supplies Needed:
Colored paper cups (Oriental trading)
Pre-lit tea light candles (Hobby Lobby)
Black felt (Hobby Lobby)
Glitter Fabric ( Hobby Lobby)
Googly eyes ( United Art & Education)
Blue checkered fabric (Google)
Blue Polka dot bow (Google)
Sunflower feltie (Etsy)
Small foam balls